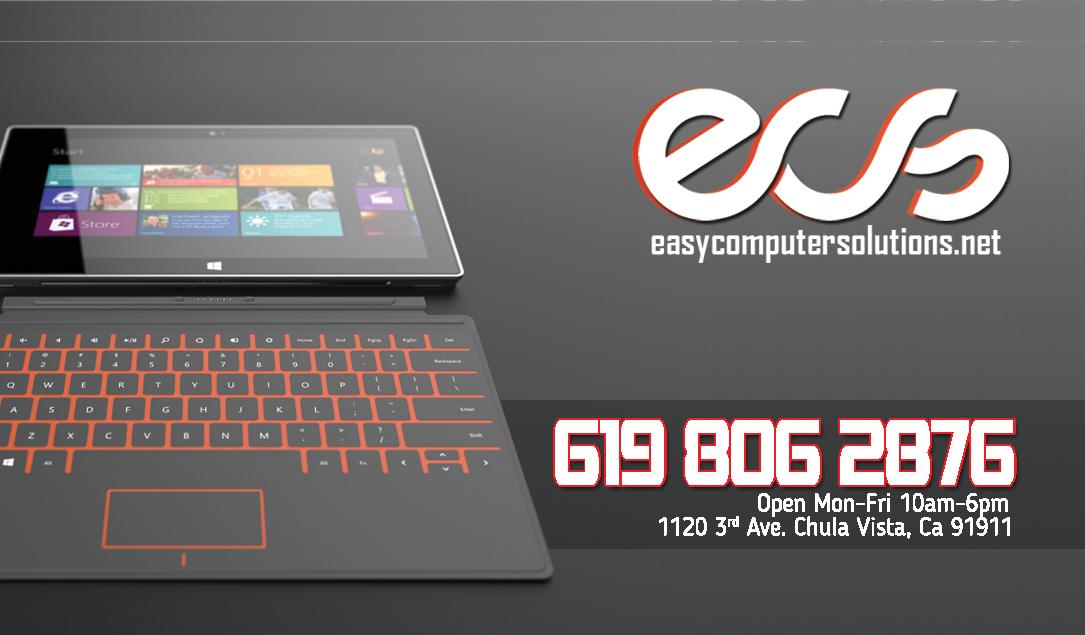 About Us
Easy Computer Solutions has been helping the Chula Vista and San Diego with their computing/electronic needs for the past 16+ years. We have a trained staff dedicated to provided quality & affordable services that remain unmatched by our competition. We are conveniently located right near the I-5 Freeway on 3rd Ave in the heart of Chula Vista! We specialize in Laptop / Notebook Screen Replacements, Motherboard Repairs, Liquid Repairs on Motherboards, Keyboard Replacements, Hard Drive upgrades and replacements, Memory/RAM upgrades or Replacements + much much more!!  We also work on pretty much any electronic including Playstation, Navigation ( GPS ) Systems, Xbox, Nintendo consoles, Projectors. We can fix it all the question is. Is it worth it? Call us today for a free and quick consultation at (619) 8062876 !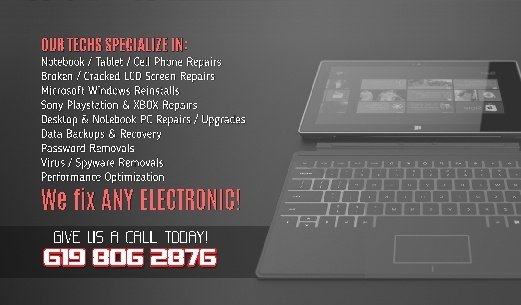 Our Story
Our tech team is without a doubt among the friendliest  Computer Repair facilities in the San Diego or Chula Vista. We are Fast, honest & dependable with or Electronic or PC Repairs. Everything from Microsoft PC Computer Repairs to Apple Repairs or Motherboard Repairs on computers affected by power surges or liquid spills. We Can Do It All! We have been in business for 16+ years. Our main focus is on retaining our customers and turning everyone into a repeat customer. By doing what we do BEST and that is treat our customers with Courtesy and Respect. We understand we are being trusted with your personal information, when you drop off your computers or electronics for repair. That is why we treat all your information with the up most care and respect and do everything possible so everything remains safe.
Call Us Today for a Free No Obligation Consutalation
We offer honest and reliable Notebook, Xbox, Playstation Apple Macbook, iMac and Windows PC, Notebook, Laptop and any All in One PC, as well as Tablet repairs such as Microsoft Surface Pro, iPad, Electronic repairs, We can fix it pretty much any computer related problems and we do it right the FIRST time. But, don't just take our word for it see our customers give us rave reviews!
Whether it's our quick, quality, friendly service or the honesty and value we bring to every interaction, our customers love us.
We're known for: Timely, quality repairs
Friendly service
Honest diagnosis
Fair prices
[auction-nudge tool="listings"]